Trust's approach to CBD wellness is as forward thinking as the CBD movement itself.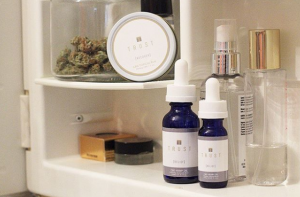 As CBD became more widely recognized for its wellness benefits, a new industry within and industry was born. Now recognized as its own unique industry separate from THC products, CBD has caught up to and is now surpassing its psychoactive sister cannabinoid.
Why?
There are many reasons, including:
CBD is non-euphoric, making it more appealing to those not wanting to ingest THC
CBD comes in a large variety of consumption/application options
CBD is readily available in stores and online
CBD is an effective wellness and pain management option
While there are many reasons to love CBD, it's important to know where the CBD is sourced and how it's processed.
Trust Relief only sources US-grown hemp and utilizes the cleanest extraction methods to create their CBD isolate. The finished product is refined-and-effective relief. How do they know?
Each batch is lab-tested for optimum quality. Trust's CBD isolate contains absolutely no THC, making it one of the most pure CBD brands on the market.
The Products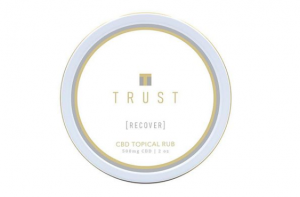 CBD TOPICAL RUB
Trust's CBD Topical Rub contains 500mg of CBD per 2-ounce container. Highly effective at combating muscle and joint pain, this is the perfect product for active lifestyles and chronic pain sufferers. Apply twice daily to problem areas and get rid of that nagging pain.
Made from US-sourced and processed, pure CBD isolate, this is relief at it's best. Combining aromatherapy benefits, Trust crafts their CBD Topical Rub with camphor, menthol, peppermint, clove and cinnamon oils, and more to provide a multi-sensory wellness experience. The velvety texture goes on smooth and absorbs quickly, with none of that greasy, damp feeling lesser-quality topicals leave you with.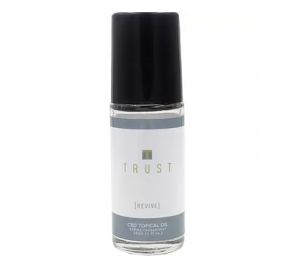 CBD TOPICAL OIL
This 30ml bottle of topical oil contains 500mg of CBD and is ideal for minor inflammation and skin conditions. Simply apply one to two times daily to affected area and experience the relief.
Silky smooth and unscented, Trust only uses Medium Chain Triglyceride (MCT) Oil and quality processed CBD isolate to create their Topical Oil. MCT oil is made from coconut and palm oils, making it an all-natural, safe ingredient. In fact, MCT Oil is so clean it's a food safe ingredient. But this is product is scientifically designed for topical use only. If you're looking for an ingestible Trust product, their CBD Hemp Oil is for you.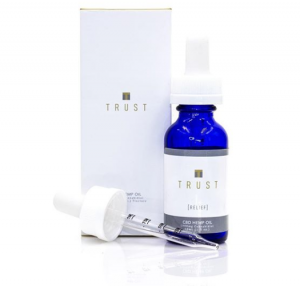 CBD HEMP OIL
Available in two sizes to meet all dosing needs, Trust's CBD Hemp Oil is a great way to maintain your CBD regimen. A daily regimen is the best way to take advantage of all that CBD has to offer, and Trust makes maintaining that regimen easy as well as effective.
Their 30ml bottle contains 1000mg of CBD, and their 15ml bottle packs an impressive 750mg of CBD into a small package.
An oral CBD regimen helps reduce anxiety, alleviate pain, and enjoy longer and more restful sleep. All of these benefits and none of the high. Made from the same quality CBD isolate and MCT Oil that's in their Topical Oil, this product has the high-dose CBD you need to make your oral regiment as effective as possible.
Trusts recommends this dosing schedule:
1mL orally
1-2 times daily
Drop under tongue
Swallow after 60 seconds
One mL contains approximately 50mg of CBD per serving, making it high-dose effective. If your regimen calls for a higher dose, simply take more drops as needed.
Conclusion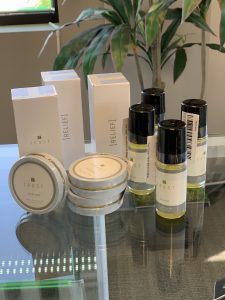 Trust Relief CBD is effective and pure. Made from only US-grown hemp and extracted with quality in mind, their products are among the cleanest on the market. Follow their journey on Instagram: @trustrelief
This dedication to quality translates to every bottle and jar they produce. Trust understands that this is people's well-being and health, and they take care to provide products that offer true relief.
Trust brand is now available at our Henderson and Laughlin locations. Come down today and experience Trust for yourself. Or, you can order Trust products on our menu to be picked up in store at your convenience.