Old Pal introduces full ounces! Take a look at what's inside those big bags!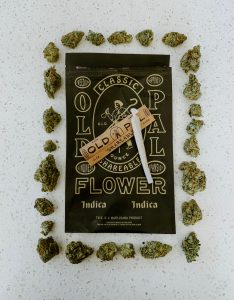 Your favorite Old Pal has a new product, and it's their best one yet! If you're not familiar with Old Pal, check out their website or their Instagram page and you'll get an immediate sense of their vibe. They're all about weed for the people. That means good weed that's affordable, abundant, and meant for sharing!
Old Pal already has two great products on Nevada shelves, the 1/8th bag and the pre-ground half ounce. The introduction of the ounce bag rounds out their lineup, and it's quickly becoming a customer favorite.
Why? Well let's get into it and you'll realize what a fantastic product the Old Pal full ounce really is!
Old Pal Ounces Are All Tops!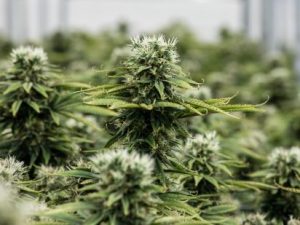 Image Credit
A few months back, I toured the Flower One facilities where Old Pal flowers are cultivated and packaged. Flower One operates a series of light-dep greenhouses, producing copious amounts of cannabis every year. Light-dep refers to the practice of cultivating in a greenhouse with retractable coverings that can block out sunlight, creating multiple growing seasons within a single year. Check out one of our previous Old Pal blogs to learn more about sun-grown cannabis.
It was on this tour that I learned about their plans for the Old Pal ounce bags, and what would make them unique: they would be made from all tops. This is significant because 'tops' are the biggest and most potent buds on a cannabis plant, and grow at the apex of each branch. Take a look at this picture of a Flower One flowering greenhouse. All the biggest top buds are destined for Old Pal ounce bags.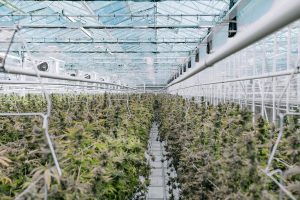 Image Credit
Cannabis plants grow bigger under natural light then they do under artificial light, which means the tops on sun-grown cannabis plants can grow very large. This is why four nugs in this Old Pal ounce weighed more than an 1/8th each! Look at these beasts: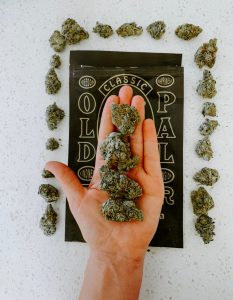 Using all tops brings a layer of quality to the Old Pal full ounce that you're going to love. It means you get the largest, most potent buds Flower One is producing, and that's a very good thing.
What To Do With All That Weed?!?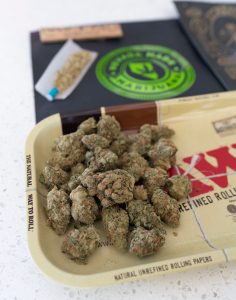 Having a full ounce of weed gives you a lot of consumption options. Not only do you have enough to smoke as you please, you've got plenty to share! This is the ultimate social product.
Friends stopping by? Roll up a couple joints. Having a party? Lay out a tray of big buds and some glass pieces for the ultimate sesh! Need a unique gift for someone special? Make them some homemade infused coconut oil. There's so many possibilities with this much flower!
Don't forget to use a grinder, because you'll be able to harvest a lot of kief from all those buds. Use the kief to top bowls, infuse prerolls, or press it into sticky, dank hash. There's a lot of benefits to buying a full ounce, including cost.
Big Savings!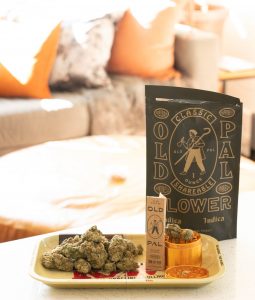 Old Pal isn't kidding when they say they produce weed for the people. They have some of the most affordable cannabis on the market, and people absolutely love it! In fact, Old Pal recently became the best-selling flower in Nevada. That's no small feat, and shows just how popular their products are.
Part of the reason they've seen such success is their price points. You can get an Old Pal ounce bag at Nevada Made for only $130, and that price includes tax! You'd be hard pressed to find a better price for quality full ounces. And these are quality ounces. Look at these testing numbers, which are comparable to flowers sold for two to three times the price:
21.5% THC

3.14mg/g Myrcene

2.99mg/g a-Pinene

1.27mg/g b-Pinene
If you're looking for potent, clean, and affordable flower, look no further than the Old Pal full ounce.
Get Your's Today!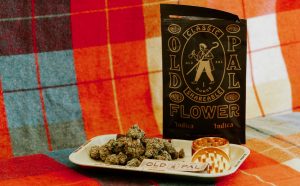 Old Pal's new full ounces offer quality and affordability. By only using tops, they're giving you the best part of the plant. It's so exciting to see those big nugs when you open the bag. And the price can't be beat!
What are you waiting for?!? Click here to reserve your very own Old Pal full ounce. You're going to be glad you did!