The 2019 Laughlin River Run is the largest motorcycle rally in Nevada and Nevada Made is right in the heart of it!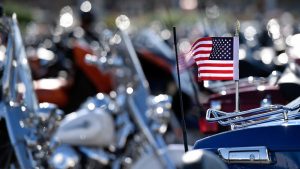 Image Credit
The Laughlin 2019 River Run brings in some of the most die-hard riders and motorcycle clubs to enjoy food, festivities, and camaraderie. Thousands of bikers swell this little city to capacity, and Nevada Made is here to help them celebrate!
If you've never experienced a motorcycle rally, you're missing out! The thunderous roar of hundreds of V-twin's, the loud music, and the endless activities are happening all around you. People are letting their hair down, they're enjoying the beautiful weather and the companionship of fellow riders. What could possibly make it any better?
A trip to Nevada Made Marijuana, of course!
Nevada Made has lots of fun planned for the 2019 River Run, including:
Vendor popups and specials
Store promotions and sales
Commemorative pins and patches
Food and radio trucks on site
And more!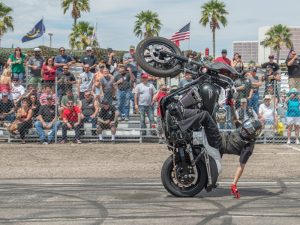 Image Credit
Nevada Made has you covered for all of your 2019 River Run cannabis needs. We have all the accessories you'll need to get you through the weekend, including all types of glass pieces, papers, and more.
Maybe you're looking for something more discreet, like edibles or vapes. We have a large selection of edibles to choose from, like chocolate, gummies, and drops. We also have a huge selection of vapes. From disposable vape-sticks to refillable cartridges, you won't have to look any further to find the products you love!
Check out a few of our Friday deals:
$10 Kabunky prerolls
$12 Kabunky grams
$40 Kabunky 1/8th's
$20 Farm Direct concentrates
Here's some of our Saturday deals:
$10 Virtue prerolls
$12 Virtue grams
$40 Virtue 1/8th's
$8 Matrix prerolls (during popup only)
$12 Matrix grams (during popup only)
$4o Matrix 1/8th's (during popup only)
Those are just a few of the amazing products and specials you'll find at Nevada Made during the 2019 River Run!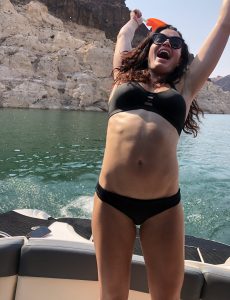 We've also got limited edition pins and patches on sale. Ask your Budtender about all of the awesome stuff we've got going for the 2019 River Run!
Remember, we're open 24/7 and you can always place your order ahead of time online with Weedmaps or right here on our own website.
So come on down and celebrate the 2019 Laughlin River Run with Nevada Made Marijuana!