Kabunky Tiny Tins are now available at both Nevada Made Marijuana locations!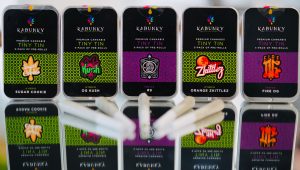 Kabunky Tiny Tins feature five, half-gram, full-flowers prerolls. Available in all of your favorite Kabunky strains, including:
Fire OG – Indica

Laughing Laughlin – Sativa

OG Kush – Hybrid

Sugar Cookies – Hybrid

#9 – Indica

Orange Zkittez – Hybrid
Each individual preroll is filled with .5 grams of freshly ground flower. This lets you control your dosing, which also helps you control waste. No more lighting a full-gram preroll just to put it out halfway. These are the perfect size for a personal use. 
Plus, they're ultra-portable and discreet. Pocket-sized for convenience, you'll never have to be without your favorite Kabunky flowers. Small but powerful, these mighty little prerolls are the perfect traveling companions.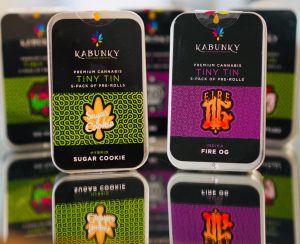 Tiny Tins takes the hassle out of rolling your own. Some people love rolling their own joints. They have the fancy grinders, the top-shelf papers and trays, and can roll a cone that looks like it came from a rolling machine. But not everyone has the time and money to invest in a rolling hobby. Some are just looking for easy, instant relief, which is why we created our Tiny Tins.
It's so simple. Just slide open the tin lid, pop out a perfectly rolled mini, and enjoy. There's no grinding, rolling, or licking sticky papers. Made from Futurola mini cones, these Kabunky minis even include the paper filter tip!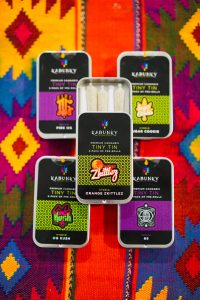 Stop into either Nevada Made Marijuana location today to pick up your very own Kabunky Tiny Tins!
Or, click here to access our menu by location and reserve some for convenient in-store pickup.