14 Grams Of Kabunky Flower In One Preroll!
When you want the ultimate preroll for your 4-20 celebration, look no further than the Kabunky Kannon! 14 grams of Kabunky flower packed into a giant Futurola preroll.
This is one HUGE joint and it can be yours on 4-20 at Nevada Made! Whether you're shopping at our Henderson or Laughlin location, you can pick up one of these behemoths to ring in 4-20 in style.
But what do you do with a half-ounce preroll???
We've got some recommendations:
Invite your friends over for the ultimate 4-20 sesh
Hotbox your whole house
Enjoy it with your lover
Pour it out and roll 28 1/2 gram joints
Smoke the whole damn thing by yourself!
Get creative. You're sure to have an idea or two of your own. These Kabunky Kannons are going to be a whole lot of fun!
KABUNKY FLOWER
Kabunky is Nevada Made's house flower and we couldn't be prouder of the quality increase we've recently seen. None of our house strains are more popular than #9. That's why we chose #9 to fill our Kabunky Kannons.
#9 showcases what experienced cultivators can do with fine genetics. Archive Seeds is widely regarded for their stable, traceable genetics, as well as being multiple High Times Cannabis Cup winners. This strain is what people are talking about when they say 'it's fire.'
The complex scent and flavor profile are reminiscent of a classic OG, but heavier across all aspects. The scent is highly pungent with definitive notes of pine, citrus, and earth, which completely translates to the flavor profile.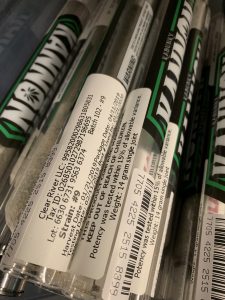 This is a hardcore product for real OG's!
Get ready to flex all over the haters with this massive preroll. We started with a foot-long Futurola cone and stuffed it full of some of our best flowers so you can have the best 4-20!
Lighting this monster is a little more complicated than lighting a normal preroll. Start by singing the tip with your flame. Burn off as much paper as you can before beginning to puff on the preroll.
As you puff, keep the flame on the tip of the Kannon. It might take a few heavy puffs to get it cherry'd up and smoking like a chimney. Be patient and you're efforts will be rewarded with dense clouds of dank #9 smoke!
PRO TIP: Don't be this person!

Keep your Kabunky Kannon upright so you don't commit the major party foul she just did!
Whatever you do with your Kannon, have fun and celebrate 4-20 with the biggest joint you're ever had!
Click here to see our full menu ahead of our 4-20 sale!