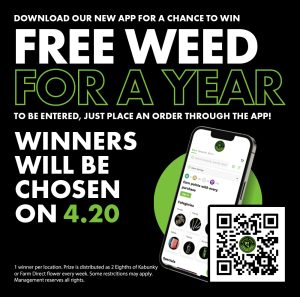 Win Free Weed For A Year with Nevada Made!
To celebrate the launch of our brand new App, we're giving one lucky winner at each of our locations Free Weed For A Year! You can download the App right from the App Store. The Nevada Made App lets you:
All you need to do to enter to Win Free Weed For A Year is:
Each winner will receive 2 eighths of fresh flower from our Vegas Airport Location, Henderson, Charleston, or Laughlin location Kabunky or Farm Direct Flower every week for a whole year. That's 104 eighths! We hope you're as excited as we are!  
Having the Nevada Made Marijuana App will give you first access to the the best deals, the newest drops, the hottest offers and best prices Nevada Made has to offer.   While some apps for cannabis dispensaries don't really do anything or provide any benefit to the customers, we are cannabis lovers and want to make sure the app has value and doesn't waste your time or space on your cell phone.  So check it out, we are sure you will love it and definitely share it with a friend or other marijuana lover you smoke with!
*Some restrictions may apply
*Management reserves all rights