Leira is nationally known for their fine quality cannagars, and now you can win one of your very own!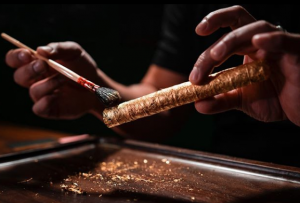 Leira Cannagars are some of the most sophisticated cannabis products on the market. They're gorgeous, artisan-quality products that you can actually consume. Every Leira cannagar is rolled by Ariel Payopay, a master at his craft.
Areil and his company are located out of the Pacific Northwest and his skills are highly sought out by aficionados everywhere. Cultivations, dispensaries, and other canna-businesses bring Ariel in to create his incredible works of art. His work has been featured in many top-tier publications, including Forbes and more.
A notable memory from Leira's recent past is when one of their cannagars sold for a staggering $11K on New Year's Eve here in Vegas.
As you can see, these are some of the most exclusive cannabis products available and you can win one of your very own!
Virtue and Leira
These fine cannagars are made using premium Virtue flowers. Virtue is well-regarded in Nevada for cultivating fine flowers. Ariel chose a fresh batch of Pure Haze to construct these custom cannagars, and what a great choice.
Pure Haze is one of Virtue's best-selling strains. This heady strain provides all the euphoric effects of a classic sativa. You'll feel uplifted and happy, with a smile that won't go away. Virtue uses Clade 9 genetics, ensuring top-shelf quality from every harvest.
In fact, these exclusive cannagars test at 34% THC, making them as potent as they are lovely. 
Win Your Own Handmade Leira Cannagar!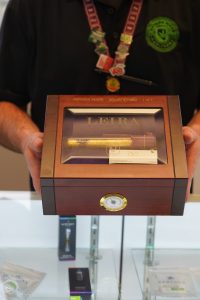 We're giving away two Leira Cannagars. The first is the 14-gram, gold-leaf El Dorado. Presented in a custom-engraved, glass-lid humidor, this limited edition, 1-of-1 cannagar is something to behold. You're going to feel like cannabis royalty winning this!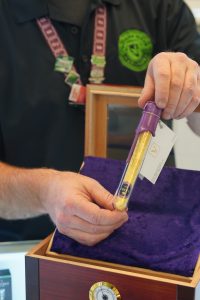 The second Leira is a 14-gram, cannabis-leaf wrapped cannagar. Presented in a glass-top, engraved box, and sealed in it's own glass tube, you won't know whether to open it and smoke it, or leave it out as a display piece. Either way, this is an incredible prize to win.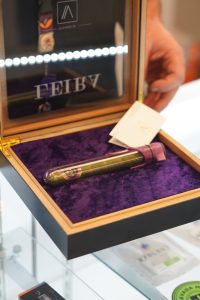 The best thing about this giveaway is that it only costs one dollar to enter and entries are unlimited!
You can buy one raffle ticket or twenty, the choice is yours. The more tickets you have, the better your chances of winning! Stop into our Henderson or Laughlin locations today to get your raffle tickets.
Winner will be chosen Labor Day weekend. Winner will be contacted by phone and must claim their prize within 72 hours. 
Click here to shop our online menu and give yourself a reason to stop in for raffle tickets!