Introducing RNBW Cannabis, the brand that wants to send you to EDC.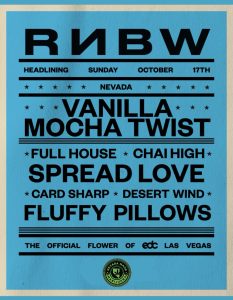 There's always been a deep connection between cannabis and music going back to the counter-culture movement of the 60's. Now that cannabis is becoming more mainstream, it's the perfect time for a brand to bring the two together. Introducing RNBW, where cannabis and music intersect.
RNBW's vision is colorful with a vibrant soundtrack. Their motto is: "RNBW is a premium brand for creators, music lovers, and believers in the power of cannabis." We at Nevada Made are also big believers in the power of cannabis, which is why we are proud to offer RNBW at our Henderson, Warm Springs, and Charleston locations.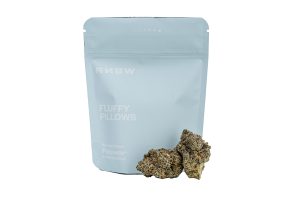 RNBW partnered with amazing local cultivators to bring these products to shelves. Their products are produced by The Grower Circle and Redwood, two well-known growers, who consistently offer up potent and flavorful strains. Whether you're looking for Indica, Sativa, or Hybrid, you'll be sure to find the perfect strain for you. But RNBW has more for you than just fantastic Flower and Pre-rolls.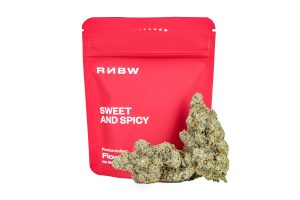 Between 10/17 and 10/21, your RNBW purchase can earn you tickets to EDC! Enjoy the spectacle of Electric Daisy Carnival enhanced by RNBW's premium cannabis. The lights, the looks, the music, and the cannabis. You've never experienced anything like this before, and the tickets are free when you make your qualifying purchase.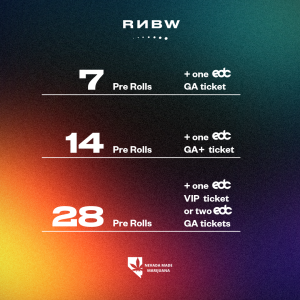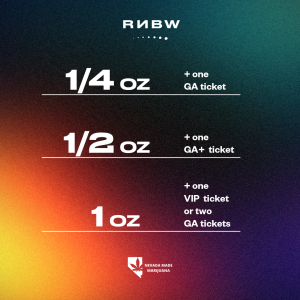 This isn't a raffle, or a chance to win. This is a bundle. You get the premium cannabis and the ticket to EDC for one great price. And that price is even lower than the face value of the ticket. Seriously, this is a no-brainer! You get the ticket you want, and some premium cannabis as well.
This promotion is for a limited time and will sell fast. Make sure you order yours now to take advantage of this amazing offer from RNBW and Nevada Made! Click Here to order online and get your tickets!